Coming Up at the Garden
Jul 2022
July 1, 2022 - July 3, 2022 at 12:00 pm - 3:00 pm
Join our docents for an informative guided tour of the gardens.

---
July 2, 2022 at 1:00 pm - 2:00 pm
Horticulturalist Duncan is bringing in a selection of hungry carnivorous plants to show how they have evolved to lure they prey and how to take care of your own! You'll be surprised what he feeds them (hint: it's not just insects!).

---
July 3, 2022 at 10:00 am - 4:00 pm
The July tea ceremonies are SOLD OUT. Tickets remain for the September sittings. Experience Japanese culture in a unique setting. Traditional tea ceremonies are offered in the tranquil Kurimoto Japanese Garden, by the Matzukaze Chanoyu (Wind in the Pines) tea group.

---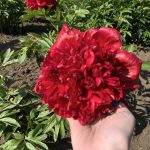 July 3, 2022 at 10:15 am - 11:15 am
Join Nick Maycher, founder of Prairie Peony, to learn all about peonies and get some tips and tricks for long bloom times.

---