#_LOCATIONMAP
Date Night Under the Stars
Date/Time
Date(s) - February 13, 2021 - March 28, 2021
5:00 pm - 10:00 pm
Put on your snow pants and toque, round up your favorite person, and plan to enjoy some unique winter fun this winter. Every Thursday through Sunday, for a limited time, it's Date Night Under the Stars.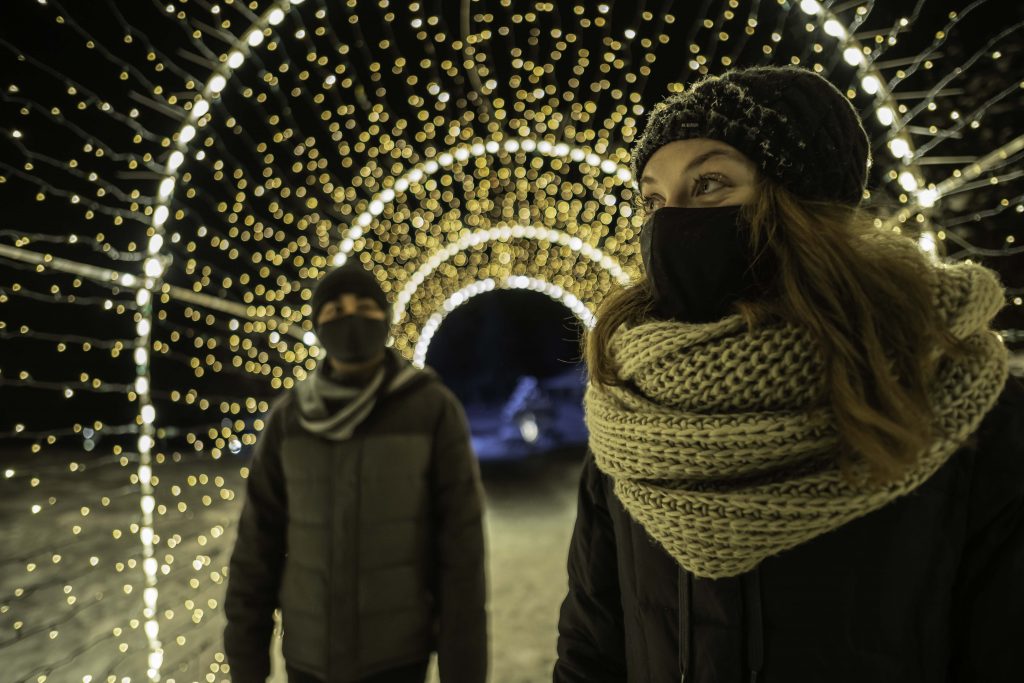 Order Date Night Tickets and Add-Ons
---
Embrace the beauty of winter, play a little, and indulge in a one-of-a-kind outdoor dining experience.
This is date night with a twist – let your inner child out to play and have some fun, while also enjoying the traditional elements of a grown up date night out – a stroll through a beautiful winter garden, live music for ambiance, and incredible food and beverage options.
We've partnered with the best of the region's dining establishments to create a unique outdoor eating experience. Northern Light Tapas is an assortment of gourmet savouries and sweets that you can enjoy while strolling through the Garden or gazing at the sky. And you can add to the experience with a lovely  BC wine or an Alberta craft beer.
Take a whirl down an ice slide built for adults, declare your love on a tree sculpture designed for initials and hearts, and let the sounds of live music wash over you as you stroll the paths of the Kurimoto Japanese Garden. And when it's time to slow things down, a warmup by a firepit, a selfie on an ice chair in the Aga Khan Garden, and some time spent gazing at the sky around the Calla Pond will round out the evening.
You can also sign up for add-on activities like guided Moonlight Snowshoeing or Indigenous Dark Skies Storytelling, or create a memory with a light painting photo portrait session.  Read more about our add-on activities below.
Advanced registration is required. 
A note about safety: We work closely and constantly with public health officials to meet and exceed Covid-19 safety guidelines for all our activities. A mandatory mask policy is in place. 
Coming up this weekend:
Live music:
February 25-28 – Umberto Cerminara (accordion)
February 26 – Executive Quartets
February 27 – Daniel Gervais
February 28 – Emmet Michael

Art Displays & Demos: Miriam Querishi
Admission: $20 adults / $15 senior or student + tax
---
Fabulous Add-ons
Take your date night from fun to fabulous, with these special add-ons. New programming options are added regularly.

Northern Light Tapas
Nightly. Must be reserved in advance.
We've partnered with the best of the region's dining establishments to create a truly unique fine food experience for your winter date night! Includes an assortment of delicious gourmet savouries and sweets that you'll pick up at serving stations located throughout the Garden, which can be enjoyed while you stroll. Complete your experience with a hot chocolate, BC wine or Alberta craft beer/cider. Note: some food items contain nuts, gluten or dairy. We are not able to make substitutions.
$85 for two. Limited quantities – order early to avoid disappointment.
---


Moonlight Snowshoeing
Runs nightly.
Groups start at 6:30, 6:50, 7:45, 8:05 and 9 pm each evening.
Advance registration required.
Take a guided moonlight snowshoe tour through little-known parts of the Garden and its forests. After your refreshing expedition, sip a hot cider by the fire. No experience needed. Snowshoes are provided.  Experience takes approx. 45 minutes.
Maximum 9 participants per session.
Along with your sense of adventure, bring a head lamp or flashlight (red light filter preferred). Wear appropriate winter clothing (warm coat, snow pants, warm winter footwear (boots or hikers), hat, mitts. Masks must be worn at all times.
$20 per person
---

Indigenous Dark Sky Storytelling
February 26, 27
Starts at 6, 7:15 and 8:15 pm
Advance registration required.
Come join Mackenzie Brown for a truly unique and personal experience through drumming, singing, and interactive star creation storytelling. You will be led to the storytelling location by a lantern-bearing guide. Performance takes approximately 45 minutes.
Max. 9 participants per session.
Bring a camping chair and blanket. Masks are mandatory. You will be sitting around a fire.
$20 per person
---

Light Painting Photography
Feb 25, 28, Mar 4, 5, 7, 11, 13, 14
Sessions start every 15 minutes starting at 7 pm; last session at 9:30 pm
Advance registration required.
Have your portrait taken by a light painting photographer, and get a lasting memory with some beautiful special lighting effects. Includes a 15 minute photo session and post-editing. Your photos will be emailed to you the following week.
Max. 2 participants per session.
Masks may be removed briefly for the photography session, but must be worn during the rest of your visit.
$35 per couple
---
Sound Vibes Yoga
Feb 27, March 7, March 13
45-minute sessions start at 5:30 and 6:15 pm
Advance registration required.
Back to Nature: Stoking the Inner Fire. Join Sound Vibes yoga for a 45 minute heat building yoga class under the sky in the Aga Khan Garden. This class will focus on postures and breathing techniques to develop an inner heat that increases circulation and vitality to the systems of the body so that no matter the external environment, we can thrive. The winter chill can cause us to want to stay indoors, but by embracing the cooler temperatures and taking practice outdoors, we can learn to stoke our own inner fire by tapping into the healing therapies of yoga, nature and breath. Each class will be accompanied by music to draw us deeper into the experience and the sweet and sacred space. 
To ensure you are comfortable through the class, we highly suggest wearing warm clothes. A good base layer, warm socks, a toque, gloves and a water resistant outer layer will help keep the heat that we generate during the class close to the body. A blanket may also be beneficial to wrap around you in savasana. 
Group size follows AHS guidelines and allows for safe social distancing. 
$20 per person
---
Date Night Under the Stars: every Thurs.-Sun. for a limited time!
We will release March dates soon, and will be adding new activities and programs regularly.
Be the first to know about future winter fun!

---
Tickets are non-refundable and non-transferable. Date Night Under the Stars is an outdoor winter event. 

Some programs may be rescheduled or cancelled in extreme weather conditions. You will be notified in advance in the event of cancellation. There are no refunds if programs run.

Please note that stargazing takes place in an area of the Garden with minimal lighting, and areas that are off maintained pathways can be uneven and snow-covered.

Mandatory mask policy in place – masks are required in all indoor and outdoor locations at the Garden, except for brief removal while eating or drinking. Please follow all signage and staff instructions regarding Covid-19 safety.
---
For information contact uabg.events@ualberta.ca or 780-492-3138
---
Categories